Richardson

High School




Class of 1967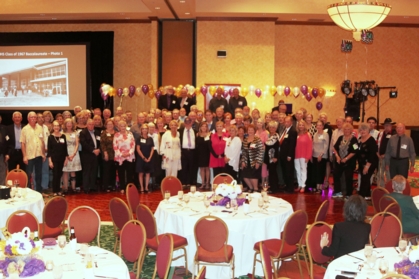 Welcome to the Richardson High School Class of 1967 home page. We're glad you found us. This website was created and is maintained by class members. Please join us by clicking on your name in the Unregistered Classmate list and creating a profile. It is free and there are no costs associated with joining.
Once you have created your profile, we will verify that it is really you and activate your free membership. Your info will NOT be used for any other purpose except for matters regarding our class. The site is secure and it is very important that our privacy is protected.
After you are registered, the entire site will be available for you to see. Feel free to post your own pictures! You can elect to contact other classmates and post your own announcements
We want to maintain a friendly, non-controversial environment. Please refrain from hostile or controversial input. No politics, bullying or rude behavior will be allowed. We will monitor and delete any posts that are provocative or rude.
If you see a classmate on the list that has not yet joined, or if their name appears on the "Missing" or "Unregistered Classmates" list, and you know how to contact them, please do so and please inform us of their contact information. Our goal is to make sure as many classmates as possible can be located and invited to join our class Website.
If, for any reason, you opt out of joining our Website or need to get in touch with us, use the Contact Us link on the menu located on the left side.
ANNOUNCEMENTS
•

Heads Up - This Sun. Dec 5th, 9 PM CST

Karen Foster is an extra in two scenes of a Hallmark Movies and Mysteries channel presentation this Sunday, Dec 5 at 9:00 pm CST - "Every Time a Bell Rings."

Filmed in her home town of Natchez, MS, she is an extra in two scenes:

(1) Sitting on a bench during the sisters' first bike ride.

(2) In the crowd at the Christmas party (sparkly Christmas balls on shirt).

Karen said that It took three days of her life to film these two seconds of screen time!

More Info:
https://www.hallmarkmoviesandmysteries.com/every-time-a-bell-rings

•

Class Videos

Our Class Memoriam Slideshow and the Yearbook Slide Show are now included with the other videos we have published.. To view, click on the Class Videos link located on the left.

•

Where We Are Now.

We have spread out to live in 40 states + Washington DC and 4 other countries! Yet over half of us still live in Texas.

Did you know that you can use the interactive "Show Classmates On Map" link on the right and find your clasmate neighbors by zooming in on the map and moving your mouse pointer over a flaged classmate location living in your area. When you posistion the mouse pointer over a flag, the classmate's name will appear. Click on the name to view your neighbor's profile.