Richardson

High School




Class of 1967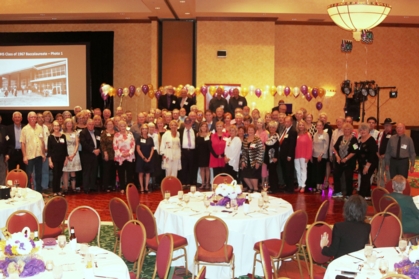 Welcome to the Richardson High School Class of 1967 home page. We're glad you found us. This website was created and is maintained by class members. Please join us by clicking on your name in the Unregistered Classmate list and creating a profile. It is free and there are no costs associated with joining.
Once you have created your profile, we will verify that it is really you and activate your free membership. Your info will NOT be used for any other purpose except for matters regarding our class. The site is secure and it is very important that our privacy is protected.
After you are registered, the entire site will be available for you to see. Feel free to post your own pictures! You can elect to contact other classmates and post your own announcements
We want to maintain a friendly, non-controversial environment. Please refrain from hostile or controversial input. No politics, bullying or rude behavior will be allowed. We will monitor and delete any posts that are provocative or rude.
If you see a classmate on the list that has not yet joined, or if their name appears on the "Missing" or "Unregistered Classmates" list, and you know how to contact them, please do so and please inform us of their contact information. Our goal is to make sure as many classmates as possible can be located and invited to join our class Website.
If, for any reason, you opt out of joining our Website or need to get in touch with us, use the Contact Us link on the menu located on the left side.
ANNOUNCEMENTS
•

Services for Jim Wood

Our classmate and friend, Jim Wood - passed away last week. His services will be at 12:30 pm, Friday, Jan.12th at the Dallas–Fort Worth National Cemetery. Our heartfelt sympathy and condolences to his family and many friends.

•

Jan Limb asked me to let the Class know that our good friend and classmate, Tom Limb, passed away October 18th. There are no arrangements or other information available at this time. Rest in Peace my friend.

Doug Dickey

•

It is with great sadness that I must report that our beloved classmate Freddie Davidson passed away from cancer yesterday, 9/27/17. Our heartfelt sympathy and condolences to his family and his many other friends.

Celebration of Life for Fred Davidson Monday, October 30th, 4-7pm at Wailea Kitchen and Tap, 131 Wailea Ike Place. Wailea, Maui, HI Fred's family is eager to meet his Maui ohana and talk story until we run out of Kleenex - in Fred's precise words with joy and laughter. In lieu of flowers, Fred requested donation to Maui Humane Society or Maui Food Bank.

Maui Food Bank:

760 Kolu St, Wailuku, HI 96793

Maui Humane Society:

1350 Meha Meha Loop, Puunene, HI 96784

•

RHS Class of 1967 70th Birthday Party

Linda Applewhite, Charlie Shipp, and Karen Foster have decided on the dates for the RHS 70th birthday party in Santa Fe, New Mexico in 2019: It will be the first weekend in October, 2019:

Thursday (3rd), Friday (4th), and Saturday (5th). Linda reports that week typically has the most gorgeous weather in Santa Fe, and we have avoided the major crowded festivals.

As an added bonus, Albuquerque hosts the annual balloon festival the following week from Oct 5th to Oct 13. Clear your calendars now for the first weekend in October, 2019. This will be the best birthday party ever to celebrate becoming septuagenarians!

Stay tuned, and we will send updated details as they happen much later.

I hope everyone made it home safely,

Karen Foster

•

Reunion Videos

There are two new Reunion videos posted. To view, click on the Class Video link located on the left.

•

50 Year Reunion

Wow - what a great Reunion! Thanks to all who attended. Each one of you contributed to making it a wonderful experience. Please join us in posting our pictures to the Photo Gallery menu link on left under the 50 Year Reunion album. It would help to list a comment of who is in the photo in the area provided.

Also, our 2017 RHS Class of 1967 Directory is now available for download from the link on the left. It is in Adobe PDF format and you can view it with a Web browser. Please let us know if you have any issues reading it.

Special thanks to our Reunion Committee and all of the generous donors who made our reunion a sucsess!

Please feel free to offer any comments or suggestions that would help in planning any of our future RHS Class of 1967 reunions.

.... and come back to our Website often. If you move or change your contact info, be sure to update your profile accordingly.

Thanks Again!

•

Request From Alan Hopewell -

During my military moves, I lost my copy of our reunion tape which was made for our 1987 reunion. I think this was the year - it was the reunion where we had a really nice tape made which was hosted by Jay. If anyone has a copy, I would be very appreciative to be able to obtain a copy. Thanks, Alan

•

We have spread out to live in 40 states + Washington DC and 4 other countries! Yet over half of us still live in Texas. Did you know that you can use the interactive "Show Classmates On Map" link on the right and find your clasmate neighbors by zooming in on the map and moving your mouse pointer over a flaged classmate location living in your area. When you posistion the mouse pointer over a flag, the classmate's name will appear. Click on the name to view your neighbor's profile.